As many of you know, my friend Marilou over at
Twenty York Street
, as well as her friend Shawnette of
Farmgirl Fashionista
, have decided to co-host (quite literally) the EASIEST blog project, ever! Know what that means?
JAMMIES!
Yep, this feature is the Pajama Project and to find information, you can clickity click
here
!
And grabbity grab one of these uber adorable buttons: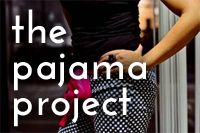 Well, if you can't see Little S, at least you can see her toys!
tank: t-shirt shop where Hubs used to work
He screen printed "Stone in Love with Journey" on it for me to wear to a Journey concert!
pink plaid cotton pants: Anne Taylor LOFT, gifted by Jen
er... that's it?
And my book is "What to Wear for the Rest of Your Life," which was gifted by
Whitney
I also wanted to share one of the DELICIOUS meals I made over the weekend:
Shells with Roasted Cauliflower, Chickpeas, and Ricotta
I used whole grain elbows and fresh parmesan instead of shells and ricotta.
Celery Salad with Feta & Mint
I could eat that celery salad every single day for the rest of my life!