Natasha of
Required 2 Be Inspired
and I are hosting Old to New in October. The premise of this month-long project is to take something you already own and don't love and turn it into something totally wearable, again! It saves money and helps you recycle your wardrobe while getting crafty! We are also happy to announce that
Anika Burke Eclectic Boutique
has graciously agreed to sponsor our entire Old to New in October project and will be providing some lovely prizes for not one, but THREE winners at the end of the month!
To qualify for any prizes, you must link your refashion project either here or at Required 2 Be Inspired on any Thursday during October. Each time you link up, it counts as one entry! The first prize winner will be chosen by Anika Burke, Natasha, and me based on the most creative and wearable project. Two other winners who have linked up throughout the month will be chosen at random! To be qualified for the random draw, you must link back to Anika Burke in your post. You can simply say, "Old to New in October is sponsored by
Anika Burke Eclectic Boutique
!" Or word it however you'd like, but as long as you do a project, link up, and link back to the online shop, you're in for the random draw!
-
First place
(most creative/wearable): $20 credit to
www.anikaburke.com
PLUS the
Elegant Rose
flower bracelet and two matching accessories!
-
Random draw
: 12 piece prize pack (12 Anika Burke accessories!)
-
Random draw
: 3 piece prize pack (3 Anika Burke accessories!)
Over the summer, I bought this adorable tennis dress and thought I'd just be the cutest little thing walking around in it with my fake-out Keds. WHO was I kidding? Nothing is right with the dress. Nothing is really even right with the shoes, but we won't go there, because I'm not ready to part with them, yet. And do you know who told me that I looked ridiculous in this? No one. I had to wait and see the photos for myself. Where's a girlfriend when you need one? Also, I really hope I've lost weight since this photo was taken, because... whatever. Anyway, I should never have bought the dress.
There really isn't much of a directional here, since all I did was chop off the top portion of the dress and fold over the elastic seam at the waistline. I didn't even pin it to make a new elastic waistline! This was probably the most simple thing I could have done, but I love the look of the skirt. I kept browsing my "to thrift" pile for something reminiscent of
Meredith's skirt
. As much as I'd have loved to make this into a pencil, my body's just not ready for all that, yet. I love how the skirt turned out, though!
See? I actually cut only about half a centimeter above the original waistband, so I folded the whole elastic waistband over instead of folding fabric that was on top of it. Now, my seam is underneath the elastic instead of on top of it.
There's just one thing... I have no idea how to wear this in the fall!!! I thought, "Striped skirt, so cute!" And as soon as it was done, I thought, "These colors... not very fall appropriate. Hrm..." So I'm enlisting your assistance to style this brand new skirt for me! You can put together a polyvore set or just comment with some ideas and I'll choose one of your brainstorms for a future OOTD post!
If you're linking up, we'd love for you to grab our project button either for your sidebar or your post! And remember, link back to our gracious sponsor,
www.anikaburke.com
, in your post to qualify for the random draw prizes!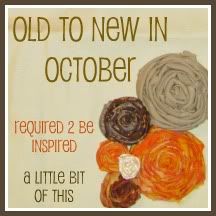 Be sure to check out
Natasha's
refashion, too! And if you didn't get a chance to work on a project and link up this week, don't worry- we'll be back next Thursday! Get started! If you did a project, link up below or at
Required 2 Be Inspired
!