There's a good chance that I'm going to need therapy to get through next week.
Let's just leave it at that.
I may or may not be wearing a dress I've kind of been DYING to own, today. Thanks to my sweet friend Rachel, of
State of My Heart
, a dress I'd been drooling over from
Forever 21
finally became mine. And I'm so in love, it's not even funny. How perfectly Spring is this baby? THANK YOU, Rachel!
Forever 21
shoes:
Lower East Side (stole 'em from my mom!)
belt:
New York & Company
photography prop of the day:
cutting board on top of trashcan
I'm starting to get pretty crafty, aren't I?
Holy colors, right? More, please!
Awkward:
- Coming to work when everyone knows you're leaving. And it seems like they're happy about it.
- Dropping Little S. off at daycare and making small talk with her provider for the first time in two years. Because she's mad. Or sad. Or something.
- Talking to my trashcan, telling it to take photos at a better angle this morning. Yep. That happened.
- Waking up in the middle of the night to get water and not remembering how the cup of water made it to my bedside table upon waking up.
- My skin. And how it hates me. But I can't figure out why.
Awesome:
- Learning that sometimes it's okay to not please
everyone
when you're doing what's right for yourself.
- Chasing dreams. And catching them.
- Watching my daughter read all of the letters on four different recycle bins, yesterday.
- My homemade chicken pot pie.
- Amazing amounts of support from my friends and family about my new endeavor.
- The sweet contest I've got going on where you get to STYLE ME for my new job!
Ahem, go enter, please!
For more Awkward & Awesome, click Sydney's cute little self right below and link up or read other bloggers' weekly overshares!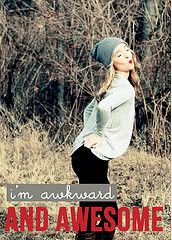 p.s.- My best friend, Jackie, is holding an amazing Mother's Day giveaway at
Jackie Ranson Photography
! Better check it out, fast!