I'm teaming up with Natasha from
Required 2 Be Inspired
and hosting the weekly series called
Old to New in October
! We are going to be refashioning items that we already own into things we'll actually wear! Old to New in October is a link-up and every week that you do a refashion project and link up with either Natasha or me, you'll be entered to win some fabulous prizes! We're still working on putting together an awesome package for our winner, but rest-assured, YOU WANT TO WIN!
Think of this as a money-saving and creative opportunity! For instance, I'm on the road to being a stay-at-home-mom in just a few months. I need to learn how to coupon so well that the producers of Extreme Couponing are staking ME out. And I need to learn how to make all of my clothes work for me so I don't feel the need to purge and repurchase!
For my first Old to New in October challenge, I chose to refashion my black Forever 21 tunic. This piece is near and dear to me because my very sweet friend,
Rochelle
, gave it to me before she left for Japan. It's a tunic on people of normal height, but it's a little mini dress on me. I considered going the tunic route and just hemming it up. But I actually don't have any black cotton dresses. As you can see, the length is a little too short for everyday wear and the neckline is majorly plunging. While I could leave my options open and layer anything I want under the piece, I decided to add an inlay and matching hem to make this an appropriate and sweet dress.
Before:
I've had this floral fabric laying around for almost a year, thinking I'd make a skirt for myself or maybe Little S. That hasn't been done, so I figured it'd be great for this project! I was into leaving the slate black and white so I could really play with the dress however I want in the future.
What I did:
1. Cut a triangle of fabric to cover the low-cut neckline area.
2. Finish the raw edge that will be the top of the inlay.
3. Pin and sew inlay to inside of dress.
4. Cut and iron fabric to make patterned hemline.
5. Pin and sew hem to dress.
6. Turn dress inside out, remove pins, trim seams.
This was super easy and fast! I finished the entire project in less than an hour of total working time. Now, my seams aren't beautiful and finished on the inside because I didn't find that necessary. If I'd been doing the refashion for another person, however, I'd have finished it all up so it would look neat from the inside and outside!
From tunic to dress, I've created a much more appropriate piece that will now be a staple in my wardrobe. The floral pattern gives the dress a fun girly feel, but the solid black keeps it just a bit on the edgy side so I can really style it however I want. I decided to go ahead and show you three different ways I'd wear this dress in the future, now that my ta-tas and booty aren't hanging out.
After:
Edgy
dress: Forever 21 via Rochelle, refashioned
denim jacket: American Eagle
shoes: Ross via Rochelle
Sweet
shoes: Gap via Whitney
necklace: Doe Run Jewelry
Professional
blazer: thrifted via Rochelle
booties: Payless
necklace: Doe Run Jewelry
Natasha and I would love to see your projects! Link up using the linky tool below or on
Required to be Inspired
! And if you didn't get a chance to participate this week, don't worry, we'll be convening again next Thursday to show off next week's refashion projects. Remember, every time you participate, you're automatically entered to win the prizes we have in store! And we'll keep you updated once we've got the whole thing together! So link up and grab our Old to New in October button for your post!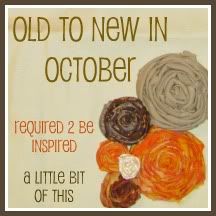 Old to New in October is sponsored in part by Anika Burke Eclectic Boutique!